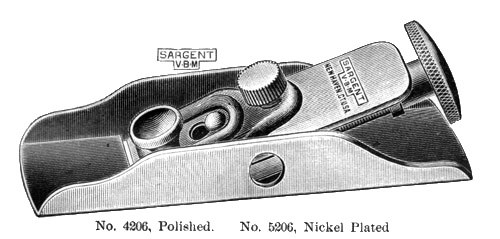 Sargent No. 4206 All-Steel Low Angle Block Plane
as illustrated in the 1912 update of the 1911 Sargent catalog.
Sargent V.B.M Adjustable All-Steel Planes.
Patented December 14, 1915 and January 23, 1917.
Light, Unbreakable, Indestructible.
These Planes are light, unbreakable and indestructible; owing to their shape and size they may be readily carried in the pocket of a carpenters apron; they are particularly desirable for use in work on scaffoldings etc. Number 2204 is especially suitable for pattern-makers' use.
Substantial, Serviceable, Handy.
Mechanics will find them substantial, serviceable and handy; they are also particularly suitable for amateur work at home. The Sargent V.B.M stamp is an indication of their high grade and superior quality.
Low Angle All-Steel Block Planes.
Screw Adjustment.
Highly Polished
No. 4206, 6 Inches, 1⅝ Inch Cutter, . . . each, net $1 20
Powerful Clamp.
The clamp it especially powerful owing to the screw construction which takes the place of the cam generally used on Block Planes. This is indicated by the fact that is necessary to loosen the clamp screw before making the lateral or up and down adjustment.
Side Adjustment.
The side adjustment maybe made by moving the Cutter with the fingers.
Rapid Up and Down Adjustment.
Rapid up and down adjustment obtained by the screw in the rear. On No. 5206 the head of this screw is made so as to serve as a handle.


Note: The above information has been reproduced from an original catalog listing.


---
Specifications:
| | |
| --- | --- |
| Plane Type: | Block Plane |
| Features: | Adjustable, All-Steel, Low Angle, with screw adjustment |
| Manufactured: | From 1912 to 1918 |
| Patents: | December 14, 1915 (design of plane) (William E. Sparks) |
| Length: | 6 inches |
| Cutter Width: | 1⅝ inches |
| Construction: | Folded steel, spot welded, knob on body (1912 to 1915) |
| Construction: | Folded steel, spot welded, knob on lever cap (1916 to 1918) |
| Finish: | Highly Polished |
| Type 1 | See "Additional Notes" below |
| Uses: | General purpose block plane |

Please check the Value Guide For Sargent Planes page for relative prices.

---
Additional Notes:
Type 1 planes had the knob located on the body. This was then changed to having the knob located on the lever cap.



---
Sargent Planes on eBay right now...
---