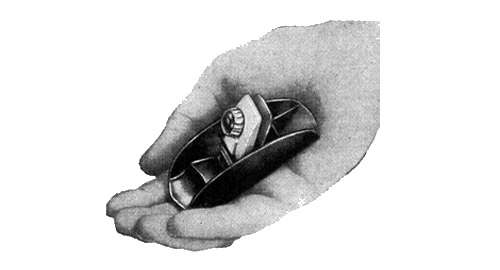 Sargent "Little Shaver" Modelmaker's Plane
Little Shaver, 3½ Inches, 1 Inch Cutter.


Note: The above information has been reproduced from an original catalog listing.


---
Specifications:
| | |
| --- | --- |
| Plane Type: | Block Plane |
| Features: | Small size for model makers |
| Manufactured: | From 1958 to 1961 |
| Length: | 3½ inches |
| Cutter Width: | 1 inch |
| Construction: | Cast iron |
| Finish: | Enameled black, with a yellow lever cap |
| Uses: | Special purpose block plane |

Please check the Value Guide For Sargent Planes page for relative prices.

---
Additional Notes:
This was the last production plane to be manufactured by Sargent. It is most commonly found as the gray-bodied and red lever cap "CRAFTSMAN" branded version which was made for Sears, Roebuck & Co. To date there are at least three different shades of red known, but the plane is also found with other color combinations including:
Black body casting with a silver lever cap
Black body casting with a gray lever cap
Blue body casting with a silver lever cap
Bronze body casting with a yellow lever cap
Bronze body casting with a bronze lever cap.
The code letters "BL" are cast into the bodies of all known planes.
A version is known and was marketed under the "Great Neck" brand. The planes were sold in a blister-pack with a Universal Product Code label on it. The Universal Product Code first appeared in 1976, which suggests that the Great Neck Plane Company must have bought up all the old Sargent stock, as these planes have the "BL" casting code on their bodies.



---
Sargent Planes on eBay right now...
---